| | | |
| --- | --- | --- |
| | MASTS and BOOMS | |
I have a mast and boom for a small 12' boat for only $100.
This small mast and boom set are from a 12' Kolibri or Koralle Jr.:
The slotted aluminum mast can be taken apart to make an upper and lower end for easier transport. The total length is 16' 10". Taken apart, the bottom section is 10' 7" and the top section measures 6' 3".


I have a nice pair of teak relings from the deck of an O'Day 22 for $40

I am selling a Sears 28 lb. thrust (1 1/2 HP) 5-speed electric trolling motor for $100




This vintage Minn Kota came with a purchased sailboat. It has only 10 lb. thrust and a simple "Off/on" switch. It must be very rare. I could find no mention of such a motor on the internet.




After posting this motor on my website, I was contacted by a fisherman in the Philippines. I regularly get email from all over the world, but a special friendship developed between this man and myself. He wrote that he had become crippled and can no longer handle a boat. He could fish from shore but the bigger fish are farther out. He constructed a small radio-controlled boat and invented a special remote-controlled fishing rod but couldn't find a motor small enough to fit his four-foot long boat. After searching the Internet, he found my website and thought the motor I had would work for his project. He offered to pay for the motor plus shipping to the Philippines! I offered to give him the motor if he just paid for shipping.

He was elated and we became email friends. The boat and motor worked as planned and he was happy, but after several weeks, the news media reported on a Tsunami that struck the Philippines, killing thousands. I have heard nothing from him since.
SOLD for $50
This little 2-cylinder outboard had not been run for years, but it turned freely and had compression. A CD with repair manuals for Evinrude outboards built between 1936 and 1961 went with the motor.
(Click on images to enlarge and press "Return" to close)
SOLD for $50
My brother gave me this little motor that was as old as I am (1938). The fuel tank was battered and the engine frozen, but it would make a great wall decoration for a Cracker Barrel Restaurant!
(Click on images to enlarge and press "Return" to close)
| | | |
| --- | --- | --- |
| | 1999 HONDA 2HP OUTBOARD MOTOR | |
SOLD for $500
This motor was used on a sailboat less than ten hours and well cared for.
(Click on images to enlarge and press "Return" to close)
| | | |
| --- | --- | --- |
| | ESKA OUTBOARD MOTOR | |
SOLD for $200
Eska 5HP outboard with fuel tank and a new recoil mechanism.
(Click on images to enlarge and press "Return" to close)
Many years ago, we lived by a lake and I thought that a defective outboard could make a neat mailbox. I removed the motor from its casing and cut the bottom out of the gas tank. The gas lever was fastened to the tank for a handle and the tank hinged at the rear. The tiller handle tilted up, so I put a red rubber grip from a bicycle on it to use for a flag. The box was made weather-tight with rubber gasket material from the trunk of a junk car. Finally, our mailbox was painted and lettered with the family name.

Our mailbox got many accolades and was even pictured in a national magazine but then, someone stole it!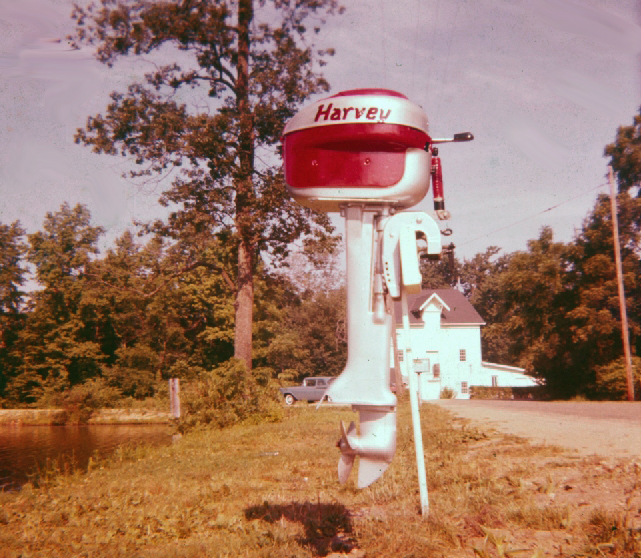 ---