| | | |
| --- | --- | --- |
| | TACKING OUTRIGGER FROM ALCORT | |
Thanks to Fred, you can now download a PDF file of the Hilu Manual here!
Definition of "Hilu":
1. n. Various species of reef fishes of the genus Coris. The name hilu may be qualified by the terms ʻeleʻele, lauwili, melemele, moelola, pano (probably same as uli), pāniʻo, pilikoʻa (Paracirrhites forsteri), hawkfish), ʻula, uli. See saying, noʻenoʻe 2.
2. nvs. Quiet, reserved, well-behaved, decorous, unobtrusive, easygoing; such a person (a child born to a woman who craved hilu fish during her pregnancy was thought to be of this desirable type).
3. vs. Strange. Eia ka mea hilu loa, here is something unusual.
While looking for a Sunfish mast and spars, I came across an ad on Craigslist.com for a Sunfish with everything but the sail, so I called. The owner had just donated it to a charity, but he said he had a catamaran with a Sunfish sail that he would sell me for $50. Needless to say, I went and got it. It is a Hilu, made by Alcort or AMF, the makers of the Sailfish and Sunfish.

Alcort built these proa type boats for a year or two and only 18 are still known to exist. The main hull is just under 14 feet and the total width of the Hilu when put together is 8 feet wide. I brought mine home on a utility trailer after separating the hulls from the trampoline.
The following two photos were taken one day after the purchase.



I refinished the mahogany wood parts and bought trampoline mesh to replace the original webbing. Apparently some Hilus had webbing while others had mesh tramps. I didn't attach the tramp boards because I wanted to keep them indoors.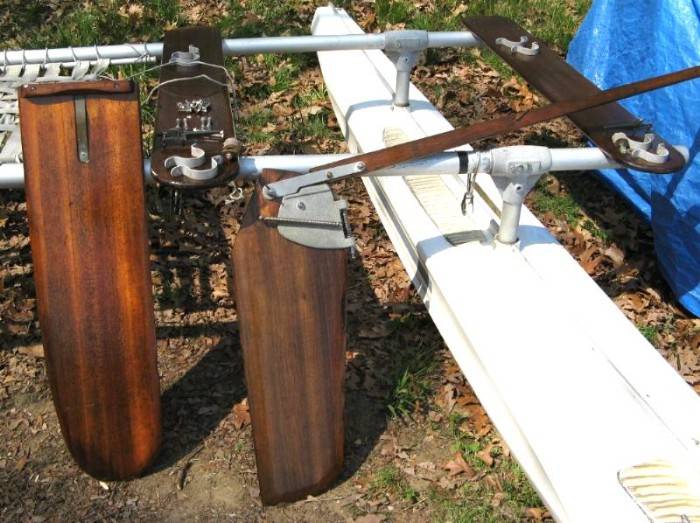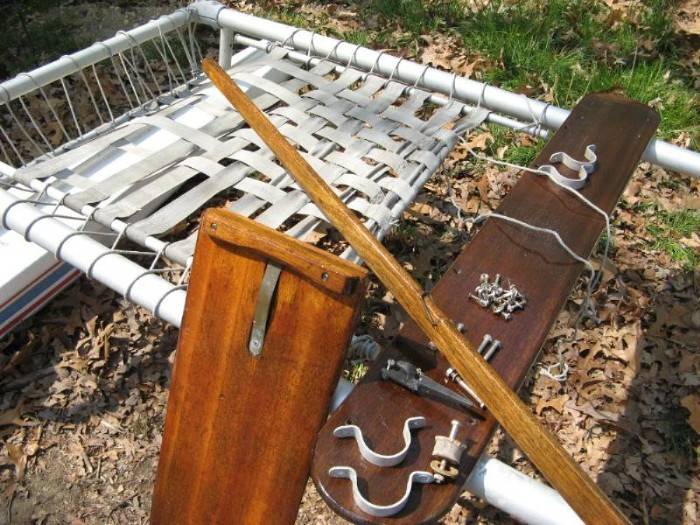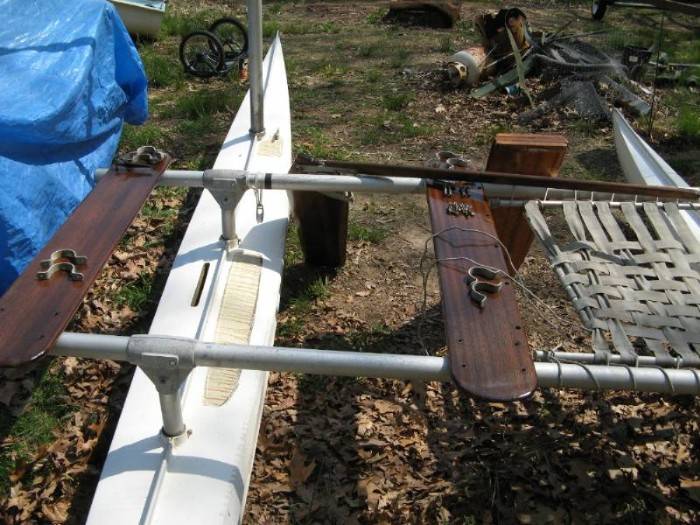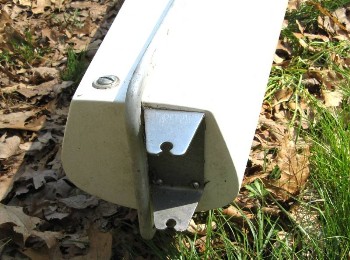 I sold my Hilu to a lady in North Carolina for $800 on June 15, 2008. She made a few changes as you can see in the pictures below.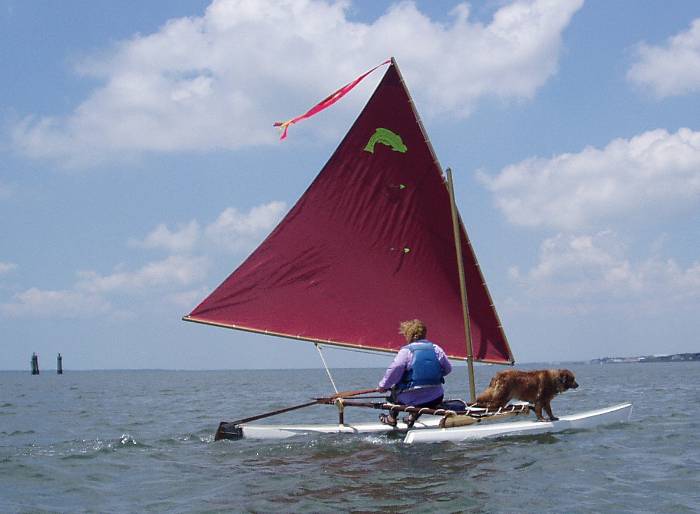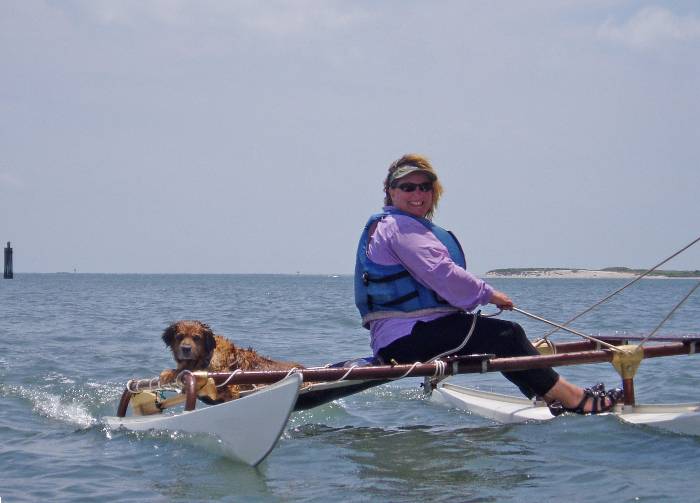 The photo below shows the only known Hilu in Europe. It is not certain whether the window was installed at the factory or after market. Mine had no window nor do the ones that appear in Alcort advertising.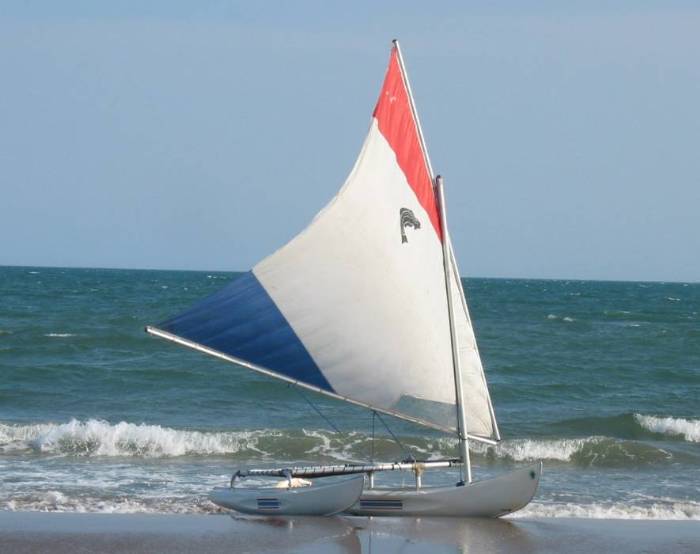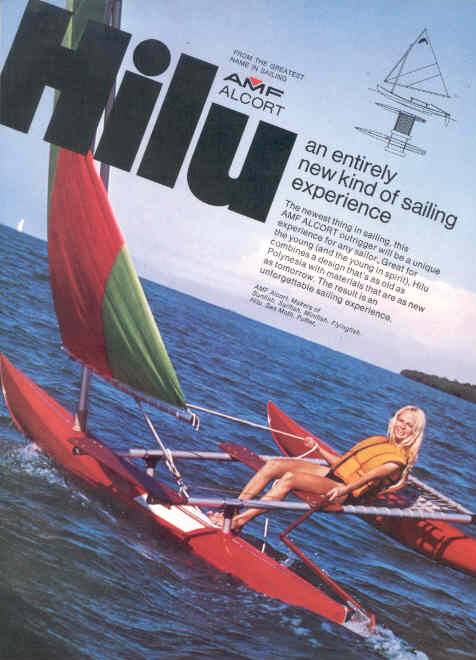 The Hilu below sold on eBay in August, 2007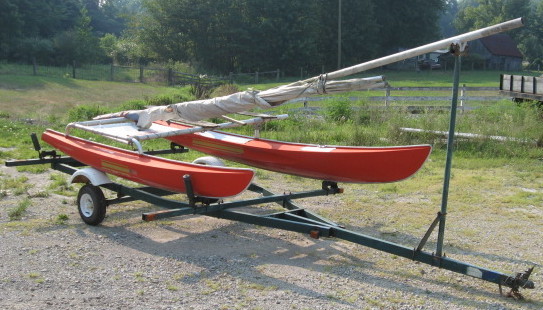 Fred's Hilu first sported a Mistral windsurfer sail. It now has a Sunfish sail.







Jim, in Northern Michigan, inherited a Hilu from his grandfather.





Bradley, of California sails a nicely restored Hilu